Registration until October 5, 2017
| | |
| --- | --- |
| Level 1-5 | $50.00 |
| Level 6-10/Elite |  $75.00 |
Entries close on October 5, 2017, or when the meet fills.
Scratch deadline is September 2, 2017.
No entries will be accepted without payment.
Faxed entries will only be accepted with a faxed copy of the entry check.
The payments must be received by October 5, 2017.
There will be a limited number of entries.
FREE IPOD for every team with 50+ entries
After the deadline, if there is space available, there will be a $10 late fee per gymnast.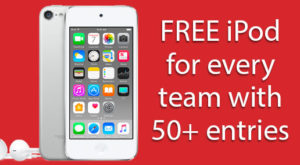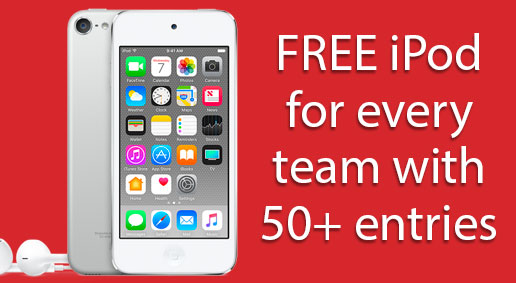 Ariana Orrego Gymnastics Cup Entry Forms
2017 Ariana Orrego Gymnastics Cup Entry Form
SPORTS AND BEYOND WILL NOT BE USING THE MEET RESERVATION SYSTEM FOR THIS EVENT
Please send all ENTRY FORMS, CHANGES & direct all inquiries to events@sportsandbeyond.com
Sports and Beyond
5816 Arrowhead Drive
Virginia Beach, VA 23462 USA
Phone (757) 718-2727
Fax (757) 499-8451
Contact: Meet Manager Gustavo Moure: events@sportsandbeyond.com
Cancellation Deadline
All scratches due to illness or injury will be refunded. Request for refunds will be accepted until September 2, 2017. After that date we are committed to expenses and will be unable to refund any entry fees for any reason, regardless of the circumstances.
Meet Cancellation Disclaimer:  In the event of circumstances beyond our control, Sports and Beyond reserves the right to amend or cancel the Ariana Orrego Gymnastics Cup.  Should Sports and Beyond have to amend or cancel the event, no refund of your registration fee will be provided. Sports and Beyond has incurred expenses in preparation for the event. Sports and Beyond is not liable for any expenses incurred by the participants as a result of the amendment or cancellation.
IMPORTANT: Ariana Orrego Gymnastics Cup is an international competition and therefore will follow FIG Age determination rules
* GIRLS: Gymnast age as of December 31st, 2017 will determine competitive age division *
This page is also available in: Español (Spanish)